More "black lives matter" violence.
All this shit is over 43-year-old Keith Lamont Scott, who was shot by a cop on Tuesday.
*SURPRISE* Scott had a lengthy criminal history including assault with a deadly weapon.
Police have dash cam video that shows Scott getting out of his car with a gun in hand and approaching police before he was shot dead.
His brother told reporters: "I just know that all white people are fucking devils." "All white cops are fucking devils, and white people."
The cop that shot his brother is BLACK.  But why let facts get in the way of a good riot.
When the family was shown the police video they had "no comment".  If the cops were in the wrong they would have screamed bloody murder.
From The News Observer.
Protests turned violent for a second night in Charlotte after Tuesday's fatal police shooting of a black man. Late Wednesday, Gov. Pat McCrory declared a state of emergency for the city and deployed the National Guard and State Highway Patrol troopers to assist local police.
One person was shot at the protest and was taken to the hospital with life-threatening injuries, Medic said. The city initially reported that he died, but later retracted that, saying he was on life-support.

Medic said on Twitter that it was treating the patient for a gunshot wound en route to Carolinas Medical Center at about 8:45 p.m.

The person was shot in the area of North College and East Trade streets.

Medic said it was responding to "multiple incidents uptown related to the situation in the College Street area" but was no more specific.

The shooting was "civilian on civilian," the city tweeted. "@CMPD did not fire shot."

The Charlotte Clergy Coalition for Justice questioned the city's account. The coalition said several of its members were just 10 feet from the victim when he was shot.

"I saw the man go down on the pavement," Minister Steve Knight of Missiongathering Christian Church in Charlotte said in a statement from the coalition. "It was an ambush. The victim was shot while he stood between two ministers, and we believe he was shot by police. We would like to see surveillance video from the surrounding area that may have captured the shooting to determine who was responsible for the shooting."
Here's your guilty party: He was shot in the head in front of the Omni Charlotte Hotel by another civilian, not a cop, firing 'indiscriminately into a crowd' .
Authorities made an arrest in the shooting:
Police say they have arrested a suspect in the deadly shooting of a protester during demonstrations in Charlotte over an officer's killing of a black man, Justin Carr.

Charlotte Police Chief Kerr Putney said during a news conference that the suspect was arrested Friday morning. He provided few other details about the arrest or the suspect but said that video led investigators to the shooter.
……Hours earlier, a group of two dozen protesters stood silently in front of the Bank of America Tower at the same intersection. They held signs reading "Black Lives Matter" and "Stop Killing Us."
You're doing a bang-up job all by yourselves.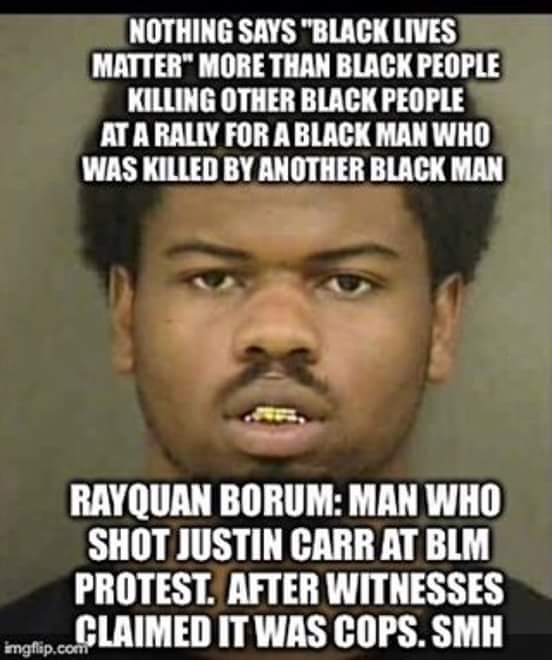 ……Master Allah of Charlotte said, "If you read (my sign), it says if we were really free, we wouldn't be dealing with this. What it means is, in the history of America, we have never been seen as free. We wasn't brought to this country to be equal, and now we're at a point to where we're being destroyed.
Slavery was abolished 150 years ago, bro. You're free to do something constructive with your life and become a productive citizen.  You're just too lazy and stupid.
……Earlier Wednesday afternoon, pockets of the city were on edge, with some uptown businesses apparently sending workers home early over uncertainty about further protests. The Charlotte Chamber also urged businesses in uptown and University City to "remove or chain down all tables, chairs, signs or planters."

At the afternoon silent protest at the Bank of America Tower, Andrew Monroe said the gathering was organized informally by a group of black professionals. "What we want to do is show we're not dangerous," he said. "We want to show the world it's not thugs out here."
Coulda fooled me, mutherfucker.
A white man was viciously beaten by a group of black thugs in a parking garage.
They even attempted to burn a reporter alive.
Here's just a few examples of the damage by 'not dangerous' people:
Locals have been buying up guns for protection against the 'not dangerous' people.
And of course, outside agitators are arriving to throw gasoline on the fire.
When white people are shot by cops, which incidentally happens far more often, no one riots.
So, when are white people going to destroy communities, vandalize, riot, and shoot cops?
The only 'black lives that matter' are the ones that can be exploited for political gain and used as an excuse to riot, vandalize, and  'burn da bitch down'.
If black lives really matter, they need to get into their ghettos and tell them to stop gang-banging each other, and stop the fucking indiscriminate drive-by shit.
Related posts:
https://sfcmac.wordpress.com/2014/10/15/to-the-black-racist-thugs-in-ferguson-and-st-louis/
https://sfcmac.wordpress.com/2016/01/07/author-daniel-horowitz-life-in-the-baltimore-basket-case/
https://sfcmac.wordpress.com/2016/07/11/great-post-by-a-black-police-officer-to-the-black-lives-matter-crowd/