The 'Black Lives Matter'  thugs are giddy with joy over this. Congrats, muthafuckas. You got your wish.
From Fox News.
Dallas Police Chief David Brown said earlier Friday that it was "our assumption" that four suspects were working together with rifles, triangulating at different positions." He had no information on a possible motive or the identities of any of the suspects. He also noted that police were not completely certain that every suspect was in custody.

Brown also said authorities had earlier taken a woman into custody near the garage. Two men were also being questioned after police pursued their vehicle away from downtown onto Interstate 35.

A fourth man was in an hours-long standoff with police. He was firing at officers and around 2:15 a.m. local time and told police "the end is coming." He later died from a self-inflicted gunshot wound, according to KDFW-TV. Police were sweeping the area for possible explosives.

Late Thursday, Brown confirmed the four fatalities — three Dallas PD officers and one transit officer — and said seven other officers and one civilian were wounded in the shooting. Three of the injured officers reportedly were in critical condition and two others were in surgery. The Dallas Police Association confirmed a fifth officer had died in a Tweet early Friday.

DART identified its fallen officer as Brent Thompson, 43. He is the first DART officer to be killed in the line of duty.

Brown said multiple shooters positioned themselves in two parking garages in downtown Dallas and "planned to injure and kill as many law enforcement officers as they could."

A Dallas police source estimated to Fox News that at least 60 rounds were fired over a "large kill zone." The source added that the shooting would have required considerable planning.
This shit is supposedly in response to cops shooting Alton Sterling  in Baton Rouge, Louisiana.
He targeted whites. Certainly we can expect the same leftwing narrative of racist motives we saw after Charleston. Right?
There's always a slew of stories that never make the main stream media cut:
In 2012, according to the CDC, 140 blacks were killed by police. That same year 386 whites were killed by police. Over the 13-year period from 1999 to 2011, the CDC reports that 2,151 whites were killed by cops — and 1,130 blacks were killed by cops.

……This white-cop-out-to-get-black-civilian narrative advances the interest of many. The media loves what Tom Wolfe called the "Great White Defendant" — a bad white guy everybody can agree to dislike. For the Democrats, it furthers their assertion that race remains a major problem in America, that Republicans/tea partiers/black conservatives are out to get them, and you must vote for us. For "activists" like the Revs. Al Sharpton and Jesse Jackson, and local wannabes, it gives them continued relevance.

……In Mobile, Alabama, a black cop shot and killed an unarmed white teenager. As with Michael Brown, the Alabama teen was later found to have been under the influence of marijuana at the time of the shooting. The teen had also recently taken a hallucinogen, and was so stoned he thought he was on fire — and literally took his clothes off. Nude — and obviously unarmed — he was still later shot by the cop. Despite public pressure, a Mobile grand jury decided not to indict the black police officer, believing he acted in self-defense.

Not national news.

In Salt Lake City, Utah, just two days after Brown was shot and killed in Ferguson, a "not white" cop shot and killed an unarmed 20-year-old man whose race has been described as Hispanic. The family of the dead man believes that the cop is a murderer.

Not national news.

In Pennsylvania, a state trooper named Kelly Cruz was accused in 2009 of stomping on the head of a handcuffed suspect laying on the ground, resulting in facial fractures, a broken nose and damaged teeth. The trooper, at the time, was attached to a local drug task force and was part of a raid on a suspected meth lab. One of the men inside escaped during the raid, and the victim — who, according to another officer, was seen running from the scene and found five houses away — was thought to be the meth lab escapee. Turns out the victim was not a meth lab escapee. The local grand jury decided not to indict the trooper. The feds, however, filed civil rights charges against the cop. He was found not guilty by the federal jury.

Not national news.
FYI: More whites than blacks are killed by police every year, but that doesn't get any attention. They only "lives that matter" are the ones that Al Sharpton can exploit for political gain.
And of course, Barky, the most racially divisive shitbag  ever to occupy the White House, gives his two cents, ranting about 'gun control' instead of mentioning the race and motivation of the murderous mutherfuckers who gunned down cops.
On that note, he'll attend the funerals of black criminals; assassinated white cops, not so much.
Jesse Jackson rears his ugly mug to blame Donald Trump for the shootings.
And leftwingnut Google weighs in: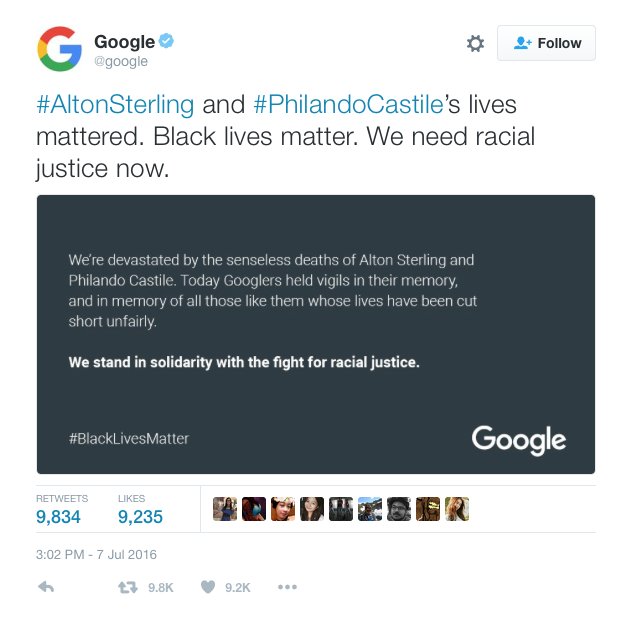 NYC officers Rafael Ramos, Wenjian Liu assassinated. 5 dead officers in Dallas. Where's your outrage, assholes?
Black thugs danced and taunted cops right after the slaughter.  They also took to Twitter to express their elation:
That's just a sampling.
Oh, and never let a "peaceful protest" get in the way of a good looting.
This is society's decay and human excrement on full display.
Nothing surprises me anymore.
Related article:
http://www.thegatewaypundit.com/2016/07/video-dallas-shooter-filmed-firing-police-executing-officer-dallas/
Related post:
https://sfcmac.wordpress.com/2015/03/13/lowlifes-gleeful-over-shooting-of-two-cops-in-ferguson/