Paging the Christian-hating Gaystapo.
UPDATE: Muzzie identified as OMAR MIR SEDDIQUE MATEEN; Born To Afghan Parents. And *SUPRISE* he was a registered Democrat.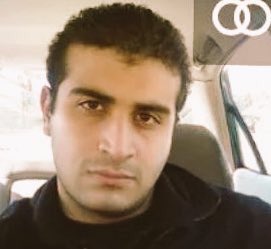 And here's something that will make you even  more confident in the agencies tasked with national security: The mutherfucker was investigated by the FBI in 2014, but the case was closed when they didn't think they had any reason to warrant further investigation.
Feel safer?
From Fox News.
 A gunman who federal authorities say had possible ties to terrorism opened fire early Sunday morning at a packed Orlando nightclub, killing 50 people and wounding at least 53 more in a bloody scene that ended hours later when police stormed the building and killed the shooter.

Orlando Mayor Buddy Dyer asked Gov. Rick Scott to declare a state of emergency following the attack.

The gunman was identified as Omar Mateen….Mateen was a U.S. citizen….though that was "not true of other family members of his." Mateen, 29, lived in Fort Pierce, Fla. He was born in the U.S. to parents of Afghan origin and was a Muslim, Fox News confirmed.

……Dozens of party-goers remained hostages in the club for several hours after the initial shooting, prompting SWAT teams to pour inside. Shortly after 6 a.m. local time, Orlando police tweeted that the gunman had been killed.

……The incident "is being investigated as an act of terrorism," said Danny Banks, special agent in charge at the Florida Department of Law Enforcement.

Banks said the shooter – who was armed with an "assault-type rifle" and a handgun — also was dead inside the club, where he was shot and killed at around 5 a.m. in a shootout with SWAT team officers who were called in "to rescue hostages," Chief John Mina of the Orlando Police Department said.

Mina said officers were engaged in a gun battle outside the club before the suspect went back into the building, where more shots were fired. He said the gunman then took several hostages.

"It appears he was organized and well-prepared," the chief said, adding that the shooter had an assault-type weapon, a handgun and "some type of (other) device on him."
This mutherfucker either received training at one of the many Islamofascist terrorist training centers in the U.S.—aka mosques—or he traveled overseas.
From the Daily Mail.
A gunman armed with an assault rifle, handgun and an explosive device has shot more than 40 people – killing around 20 – after taking party-goers hostage inside a nightclub in Orlando.

An unknown number of people were killed and 42 were taken to hospital after the gunman, believed to be in his 20s, opened fire inside Pulse nightclub, in what police are calling a 'domestic terror attack'.

The killings took place less than four miles from where The Voice singer and YouTube star Christina Grimmie, 22, was shot dead at The Plaza Live in Orlando on Friday.

Police said the gunman was not a local man and the FBI believe he may have 'leanings to radical Islamic terrorism'. 

Party-goers were urged to 'get out and keep running' as bullets started flying at around 2am local time.

Eyewitnesses described the gunman having a bomb strapped to himself when he started shooting today.

At around 6.00 local time (11am GMT) police said on Twitter: 'Pulse Shooting: The shooter inside the club is dead.' Officers described it as a 'mass shooting'.

One man who said he was inside the club posted that the shooting broke out around 2 a.m. and that he heard about 40 shots being fired.

Police earlier carried out an controlled explosion at 5.15 local time (10.15am GMT today). but it is not yet clear whether that was linked with the gunman's death.

It was thought that at least one hostage had been locked in a bathroom with gunshot wounds.

Around 100 officers were involved in the hostage situation before the gunman was killed.

Local TV reporter Stewart Moore said that more than 20 people had been shot with an assault rifle.

Jon Alamo said he was at the back of one of the club's rooms when a man holding a weapon came into the front of the room.

'I heard 20, 40, 50 shots,' Alamo said. 'The music stopped.'

Club-goer Rob Rick said it happened around, 2 a.m., just before closing time. 'Everybody was drinking their last sip,' he said.

He estimated more than 100 people were still inside when he heard shots, got on the ground and crawled toward a DJ booth.

A bouncer knocked down a partition between the club area and an area in the back where only workers are allowed. People inside were able to then escape through the back of the club.

Christopher Hansen said he was in the VIP lounge when he started hearing gunshots.
This is the club:
In muslim-dominated cesspools, gays are hanged, thrown off buildings, beheaded, and set on fire.
And yet the LGBT militant fascists in this country threaten death to Christian bakers over a damned wedding cake.
Maybe this latest attack on gays by the Islamic pigs they adore, will slap them back into reality, but I doubt it.
And of course, the idiot liberals blame guns, the 2nd Amendment, and law abiding gun owners except when the shootings happen in black neighborhoods or when Obama ran guns to Mexico during  'Fast and Furious'. Incidentally, one of the muzzie turds who showed up at the free speech 'draw Muhammad' convention in Garland, Texas purchased his weapon from the operation.  Mexican cartel kingpin 'El Chapo' also got a .50 caliber gun thanks to Obama.
Forget the violent ideology that inflicted 3000 deaths on 9/11 and killed 13 Soldiers at Ft. Hood.  They'll excuse the fact that it was a cold-blooded terrorist attack in the name of their religion, as long as they can use the rest of us for a scapegoat.
Related posts:
https://sfcmac.wordpress.com/2015/11/22/leftwing-pundit-the-left-has-been-eaten-alive-by-islam/