Protesters and supporters of Donald Trump clashed in the streets of San Jose, California, Thursday night after the presumptive GOP nominee held a rally.
Protesters waved Mexican flags and one could be seen burning an American flag, with another burning Trump's "Make America Great Hat." Some chanted "F— Donald Trump" and "Donald Trump has got to go" outside the San Jose Convention Center, where Trump held his rally.
As Trump supporters exited the rally, protesters shouted insults at them and accused them of being racists.
The protesters spilled into the nearby streets, with some standing on cars. Some held signs that read, "We need socialism" and "A vote for Trump is a vote for fascism."
When it comes to racism, the Left has a corner on the market.
(Source: The Daily Mail)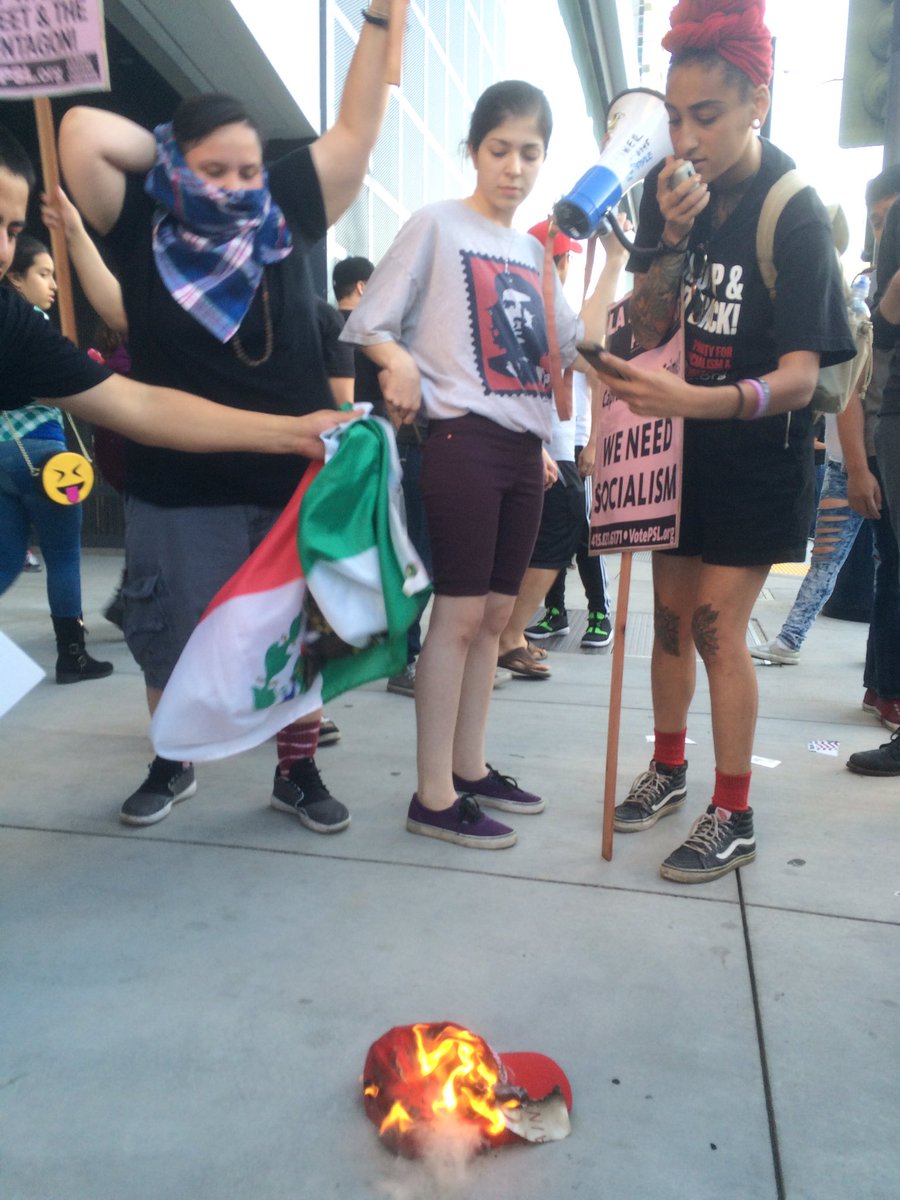 (Source: https://twitter.com/astoneabcnews/status/738565366331244544/photo/1)
Donald Trump supporters leaving the presumptive GOP nominee's rally in San Jose on Thursday were pounced by protesters, some of whom threw punches and eggs.
The protesters chased and taunted Trump's supporters outside the San Jose Convention Center. They surrounded one woman and It was unbelievable," said Steve Tong, a Cupertino resident who attended the Trump rally.
Tong said after the rally, he was walking toward a nearby parking structure and saw protesters surrounding and taunting an elderly couple.
"I've never seen anything like that in America before," Tong said.
Tong also said he saw protesters smash car windows inside the parking structure.
The rent-a-mob needs to be dealt with like the cops did during the 1968 Chicago riots.
And of course, the Dem assclown mayor of San Jose blames Trump instead of the thugs.
The radical socialist and illegal alien thugs always show up at these rallies not to protest, but to shut down free speech and assault Trump supporters.
It's time to shut those mutherfuckers down.
When Trump gets elected, hopefully these little shitbags will be shipped back to their own countries,
Related post:
https://sfcmac.wordpress.com/2016/03/12/moveon-thugs-turn-violent-during-anti-trump-protest-in-chicago/
Related article:
Police Officer Assaulted In Riots At Trump Rally In San Jose