Great deal ya made there, Barky.
Back on the Friday-Prayer lectern in
#Tehran, a quote from #Khomeini: "We will
trample upon #America."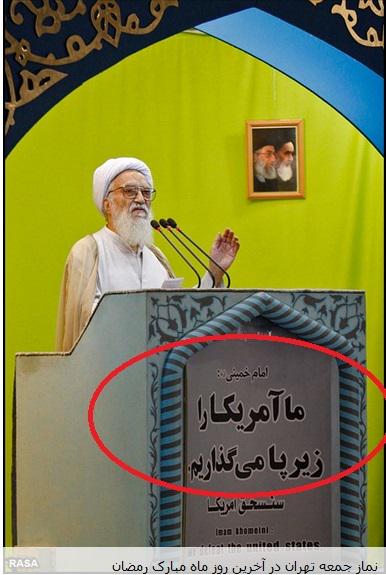 Iran's supreme leader Ayatollah Ali Khamenei said Saturday that a historic nuclear deal reached with world powers earlier this week won't have any effect on Iran's policy toward the U.S.

Khamenei said in a televised speech that U.S. policy in the Middle East runs counter to Tehran's strategy and that Iran will continue to support its allies in the Middle East including the Lebanese, Hezbollah, Palestinian resistance groups and the Syrian government.

"Our policy towards the arrogant U.S. government won't change at all," he said. He was addressing a large crowd in Tehran, broadcast live on state TV, to mark the end of the Muslim holy fasting month of Ramadan.

Iran calls its Lebanese ally Hezbollah a "resistance movement" while the U.S. describes it a terrorist group. And Iran continues to call for the destruction of Israel; Khamenei in his Saturday speech described Israel as a "terrorist, baby-killer government."

Israeli Prime Minister Benjamin Netanyahu has strongly opposed the deal, saying it will enable Iran to emerge from crippling economic sanctions while doing nothing to moderate Iran's aggressive behavior around the Middle East.

"U.S. policies in the region are 180 degrees in contrast to Iran's policies," Khamenei said. "Whether this text (nuclear deal) is approved or disapproved, we won't give up supporting our friends in the region. The oppressed Palestinian nation, Yemen, Syria, Iraq, Bahrain, the honest mujahedeen of resistance in Lebanon and Palestine will enjoy our constant support."
"180 degrees in contrast." That's hi-larious. Obama's foreign policy involves placating our enemies and disrespecting our allies.
Iran can't believe its luck. It literally got the nuclear bomb handed to it on a silver platter. The United States has been rendered effectively pussified for the duration of Obama's tenure, and they're going to take full advantage.