Background:
CJ Pearson is a young activist with more intelligence and common sense than many people three times his age.  This 12 year old is one of the most articulate, smart, no-nonsense kids on the planet. Since the age of 8, he has considered himself conservative.  He's been involved in political action that would put most adults to shame. I first heard of him when he reiterated Rudy Giuliani's truthful assertion that Obama really doesn't love this country.
Well, after he gained notoriety, the filthy libtards came crawling out of the woodwork with epithets and death threats.  Some scrunt with the moniker of "Mona Hussein Obama" posted death threats on Twitter against young CJ and his family: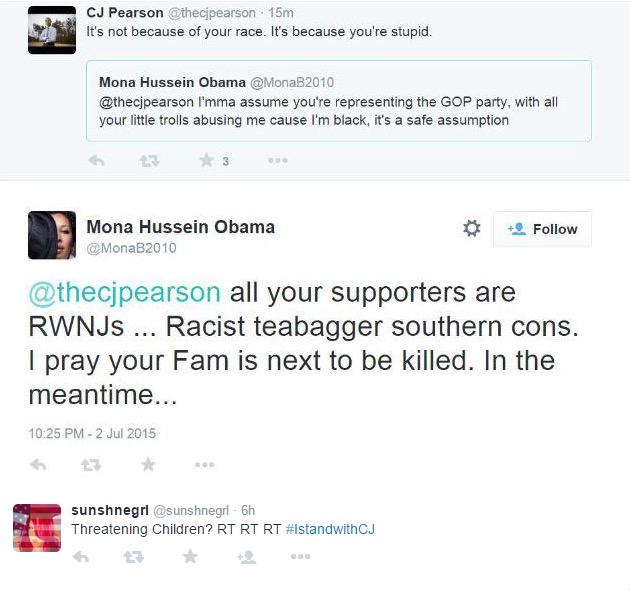 Well, the boorish little scrunt got payback from CJ's supporters throughout the internet community and she (reluctantly) backed down:
The woman who launched an online campaign of bullying and veiled threats against Internet sensation CJ Pearson, frightening the young conservative's family enough to drive the boy briefly out of politics late last week, has been identified as a "top Democratic activist" from Baltimore.

And the Pearson family is planning to press charges.

According to a Facebook posting Sunday by Ali A. Akbar of Vice and Victory, a consulting firm that works with CJ, the woman behind the Twitter account "Mona Hussein Obama" is actually named Mona Brown.
"What she did was against the law," Akbar said on the video, vowing to "expose a troll, a bully, a grown adult and top Democrat activist in Maryland for bullying a 12-year-old."Late last week, Brown began her Twitter campaign of harassment against Pearson in retaliation for Internet videos harshly critical of Obama that have made the boy an Internet sensation. Her tweets ranged from insults — "your fam has been bowing down to white ppl" — to hints of violence "Wish we could switch Trayvon's life for yours."

On Facebook Friday, the 12-year-old announced he had had enough.

"After much thought and consideration, I've decided to take a break from politics and political commentary," he wrote. "I had a horribly rough night on Twitter after a woman not only threatened to sue me for expressing my opinions but threatened my family."

The boy handed over his social media accounts to Vice and Victory, which quickly set up a support fund and hashtag #StandWithCJ.

CJ's Facebook page now includes an apology Brown sent after her true identity became known.

"I apologize and am deeply ashamed of the horrible statements I made to @cjpearson," she wrote.

She then goes on to complain about how "the right wing" is attacking her family — apparently missing the irony that she earlier attacked the Pearson family and wished for their death.

Pearson plans to get back into politics and says that the incident has only made his resolve stronger.

"After much thought and consideration, I have decided to press forward and continue to fight for what I believe in," he wrote on Facebook. "Mona's hate has only strengthened my resolve and has encouraged me to continue to do what I love and what I do best."
I'm glad CJ decided to brush off the trash talk from the asshole and carry on.
Brown isn't really sorry. She's just sorry she got bitch-slapped for her douchebaggery.