It's pretty fucking blatant.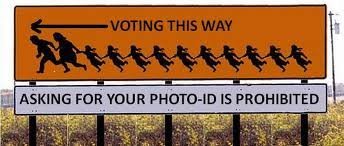 Names of illegal aliens found on North Carolina voting rolls.
According to a Winston-Salem Journal report, the State Board of Elections discovered the potential illegal voters Tuesday night when the N.C. Division of Motor Vehicles ran a search for DACA licenses. The 145 DACA recipients whose names appear on the SBOE's voting rolls will be sent letters requesting documentation that they are citizens, the report noted.

DACA beneficiaries in North Carolina are able to obtain drivers licenses, but they are not able to vote.
DACA stands for Deferred Action for Childhood Arrivals status. In other words, they're illegal aliens allowed to stay in this country for "work permit" reasons until the arrival of their spawns.
In Texas, Dems broke multiple election laws; employing unauthorized registrars and tossing out registration cards filled out by Republicans.
Voter fraud and tampering was rampant during the 2008, 2010, and 2012 elections.
During the 2008 election, our former corrupt Ohio Secretary of State Jennifer Brunner, abetted voter fraud (including ACORN) and the 6th District Court of Appeals gave its blessing. In addition, out-of-state Dem voters took up a temporary residence for the sole purpose of fraudulently voting for their boy Obama; taking advantage of a huge loophole in Ohio law. Ohio requires that you live within its borders for 30 days prior to registration with the intent to stay after the election. They voted and left the state.  In Indiana, Democratic party chairman, Butch Morgan, resigned after hundreds of faked signatures were discovered on petitions for B. Hussein Obama and Hillary Clinton during the 2008 primaries.
During the 2010 elections, the Dems picked up where they left off.  The DOJ blocked any efforts to remove ineligible names – dead people, felons, people who have moved – from voter rolls.  Justice Department official Julie Fernandez had "no interest in enforcing this provision of the law".
The investigation of Obama's campaign/voter fraud wing ACORN, was shut down by Eric Holder.
All of their filthy tactics were for nothing. They got shellacked in the mid-terms.
In 2012, busloads of illegal Somali residents were taken to Ohio pols and 'guided' through the voting process in favor of Dem shitbag Sherrod Brown.
In Florida,  Republican voters received puerile fake letters postmarked from Seattle, which told them they weren't eligible to vote.  Eric Holder, champion of illegal aliens, tried to pressure Florida into keeping the names of illegal aliens on its voter rolls.  He also refused to prosecute Black Panther thugs for voter intimidation. Virgina Dem Jim Moran's son, Patrick, was  caught on video encouraging voter fraud.
35,000 people with matching full names and dates of birth voted in both North Carolina and another state in the 2012 general election. Obama carried North Carolina by fewer than 15,000 votes in 2008.  Gotta hand it to the Dems, they know how to stuff a ballot box.
In Philadelphia, Republican registrations  were shredded by Dem 'activists'.
There are reasons why the Dems oppose any laws requiring voters to show proper valid ID.  Illegal aliens are part of their voting bloc.  They would rather subvert the voting process for corrupt political gain than follow the law.
James O'Keefe from Project Veritas has uncovered voter fraud all over the United States. As a matter of fact, he just did some undercover work in Colorado, where he discovered that the Dems are filling out unused ballots the way they see fit:
James O'Keefe, the guerilla filmmaker who brought down the ACORN voter-registration fraudsters in 2010 and forced the resignation of NPR executives, politely disagrees. Today, he is releasing some new undercover footage that raises disturbing questions about ballot integrity in Colorado, the site of fiercely contested races for the U.S. Senate, the U.S. House, and the governorship. When he raised the issue of filling out some of the unused ballots that are mailed to every household in the state this month, he was told by Meredith Hicks, the director of Work for Progress, a liberal group funded by Democratic Super PACS.: "That is not even like lying or something, if someone throws out a ballot, like if you want to fill it out you should do it." She then brazenly offered O'Keefe, disguised as a middle-aged college instructor, a job with her group.

……He has a conversation with Greenpeace employee Christina Topping, and suggests he might have access to unused ballots from people who have recently moved out of college fraternity houses. "I mean it is putting the votes to good use," she responds. "So really, truly, like yeah, that is awesome."
Organizations like True the Vote were created after witnessing blatant Dem voter fraud right at the voting pols.  True the Vote was one of the Tea Party groups targeted by the thugs at Lois Lerner's IRS.
The Dems are in a panic because they know they're in for another ass-whipping.
Related articles:
http://www.bloomberg.com/politics/articles/2014-10-22/gop-group-readies-1000lawyer-army-for-election-day
http://www.washingtontimes.com/news/2014/oct/21/ballot-harvesting-by-colorado-campaign-workers-rai/
http://nypost.com/2014/10/22/850-people-officially-over-164-years-old-nyc-board-of-elections/